Our AI Club members Vivek and Patricia Savkur had every reason to be proud as their grand-daughter Ashleigh achieved professional status as a Bharata Natyam performer at her Arangetram on October 5th. It was a stupendous occasion for the 17-year-old dancer who has been in training for this celebratory performance since she was four years old.
"Arangetram" literally means "ascending the stage", and at this debut performance, Ashleigh enthralled her audience as she performed intricate Bharata Natyam dance routines involving complex steps and body poses, sylized hand gestures, and eloquent facial expressions, accompanied by rhythmic Carnatic music and vocals. Particularly riveting was her interpretation of the six days of Diwali with its joyous festivities, its lighting of diyas, and the dances honouring the goddess Lakshmi, Lord Krishna, and other mythological gods and goddesses. The first half of the performance stretched for the better part of an hour, demanding an amazing degree of stamina and concentration, and Ashleigh rose to the occasion splendidly.
After the intermission (when we enjoyed munching on a roti wrap and a spicy raisin-and-poha like chivda snack) Ashleigh reappeared on stage in a blue silk costume that was as opulent as the first one (red and gold). Her audience was captivated by "Bhajan" - a devotional song and dance in praise of Lord Krishna - and this was followed by two more dances of a reverential nature: a "Padam" to the Virgin Mary and in conclusion a short "Mangalam" prayer expressing gratitude towards God, gurus, parents and her audience.
It is no small feat for a solo performer to hold an audience of 350-plus people in rapt attentiveness during a 90 minute show on stage, and the audience, composed of many friends (in addition to family members) went wild in their appreciative applause at the conclusion of Ashleigh's performance.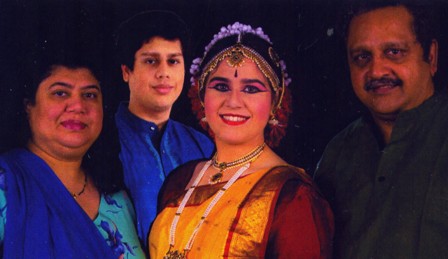 The Nazareth Family: L-R: Alison, Andrew, Ashleigh, Doug.
Proud parents, Doug and Alison Nazareth paid tribute to their daughter's achievement (yes, she did "rock" - as her mother put it!) and they took the time to thank all those who made the occasion such an overwhelming success - family, friends, volunteers, photographer (Gordon Martin's stunning images graced the glossy program), and above all, Sudnya Mulye of the Sudnya Dance Academy who has been Ashleigh's teacher, guide, guru and inspiration through the years.
All in all, it was an evening of triumph and one that will long be remembered by all who enjoyed Ashleigh's remarkable interpretation of classical Bharata Natyam and its spiritual and mythical traditional stories.