A CLASSY TEA PARTY AT THE RICHMOND CULTURAL CENTRE, MINORU GATE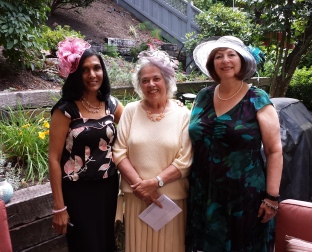 On a sunny August afternoon, Jacquie Michael, Ashley and Marie Orton and I flaunted our summer dresses, hats and fascinators at an über fashionable afternoon tea party held at the Richmond Cultural Centre. We were surrounded by elegant seniors so impeccably turned out that they wouldn't have been out of place at a Buckingham Palace garden party.
Adding to the ambience was a string quartet comprised of members of the Delta Youth Orchestra, playing classical music as guests arrived and took their seats at tables set with white linen tablecloths, fresh flower centerpieces and Royal Albert bone china teasets. We sipped our tea (little fingers crooked in genteel fashion!) and nibbled on scrumptious pastries, cakes, scones and strawberries.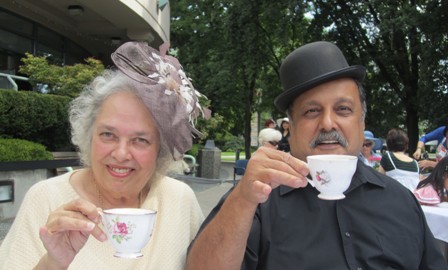 Veddy propah!
| | |
| --- | --- |
| | Gail Hawksworth with Jacquie (left) and Counsellor, Bill McNulty (above) |
I'm glad I wasn't one of the judges for the best hat, as it would have been an almost impossible task to select a winner from such a huge variety of imaginative and beautiful headgear that ranged from 20's style cloche hats to floppy brimmed hats with ribbons and bows, flower decorated bonnets and silk turbans. Colours that dazzled - orange, pillar box red, sky blue, buttercup yellow and royal purple.

Richmond Counsellors, Bill McNulty, Linda McPhail and Derek Dang mixed and mingled with the guests, to everyone's delight, as is evident from the beaming faces under those gorgeous hats!.
Guests took the opportunity of trying out teas brewed in varying flavours from India, China, Japan and an exotic sampling from Middle Eastern country that piqued my curiosity. It was delish! And I wish, now, that I'd made a note of the brand and its country of origin.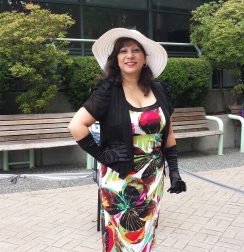 Tea service over, our talented Club members, Gail and Doug Hawksworth ("Cheek to Cheek") belted out songs and rhythms that soon had the dance floor seething with activity. Couples grooved to a lively mix of cha-cha-cha, jive, tango, foxtrots, Latin beats, not to mention ever popular line dancing numbers.
| | |
| --- | --- |
| | Swing it Ashley & Marie! |
It was an afternoon to remember, and I can't wait to sign up for this delightful tea party again next summer. Hope you'll join me!