Patricia and Vivek celebrated their Golden Wedding Anniverary on May 21st 2017 at a gala party attended by a huge gathering of family, business associates and colleagues, MPs, VIPs—and best of all— many near and dear friends, some of whom had flown in from distant parts of the globe to be present for this very special occasion.
Pat looked dignified and gracious in an elegant evening gown, and Vivek was very dapper in his black tie formal apparel.
L-R:Standing: Kieran, Keegan,Cherie,Vivek,Andrew,Alison, Doug
L-R Seated: Ashleigh, Patricia, Christopher (standing)

Patrica & Vivek with their grandchildren, Kieran, Andrew, Ashleigh and Christopher, are joined by Rose Fernandes
Grandchildren, Ashleigh and Andrew Nazareth and Kieran D'Silva were joint MCs, and they paid tribute to their much loved grandparents with funny and affectionate anecdotes. Christopher, their youngest grandson, was all smiles, specially when his brother Kieran sang "Its A Wonderful World." An old friend, Rose Fernandes, who made a special trip from her home in Nairobi to attend the celebration, shared fond reminiscences of a friendship that has spanned many decades.
| | |
| --- | --- |
| Placing the ring | A tender kiss |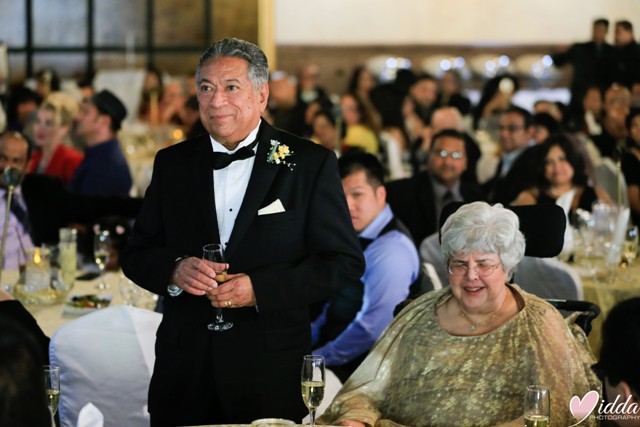 Raising a toast
At the heart of the celebration was a moving ceremony during which Vivek and Pat renewed their marriage vows; the service was conducted by Evangelist Shekhar Kallianpur who had flown in from India specially for this occasion. Vivek and Pat's deep abiding commitment to each other was exemplified by those same promises they made 50 years ago to "love and cherish", for "better for worse", and – most significant of all – "in sickness and in health"; this last, in particular, has stood the test of time during many ups and downs of physical challenges they've both faced in the last little while. Without question Vivek's strong spiritual beliefs in his Savour, has been a beacon of light and hope.
A very special surprise was a razzle-dazzle cabaret dance performance by Shiamak's Vancouver Troupe which brought the audience to their feet in a roar of applause. It was Shiamak's way of thanking Vivek and Pat for their love and friendship which he has treasured through the years.
A variety of pop, rock, folk and reggae music by the Big Beats band had the crowd up on the floor and there were hoots and whistles of appreciation when they launched into a set of popular Goan songs. Attentive waiters served hors' d'oeuvres at tables, a well stocked bar catered to those who were in search of more "spirit-ual" refreshments, and the lavish buffet dinner spread included a mouthwatering selection of desserts.
As classy celebrations go, this party topped the list! We members of the A.I. Recreational Club, would like to say: "Warm and affectionate congratulations Pat and Vivek, and may you continue to share love and kindly companionship for many years to come."