MEMBERS NEWS - SPRING 2017
The McCarthys take Mexico
| | |
| --- | --- |
| Chichen Itza Chic Chick | Rowland and his buddy |
| | |
| --- | --- |
| Cool lady with her cool drink | Corked! |
___________________________________________________________________
Au Revoir (but not goodbye!) Rita...
Rita, daughter Marguerite ("Cookie"), Freda, Brian, Teresa and Margaret
________________________________________________________________________
Young Achiever Matteo...Congratulations!
Matteo Fronteddu, grandson of Leslie and Jacqueline Michael, spent his Spring Break at the Spanish National Soccer Training Facility in Madrid, Spain. There, he trained with the professional training staff pushing his game to the next level. Matteo was a member of a select group of boys from the Langley United Soccer Association that made the journey to Spain to be immersed in soccer culture. Upon his return, Matteo was selected to the Fraser Valley Metro Under 13 soccer team as their starting attacking centre midfielder.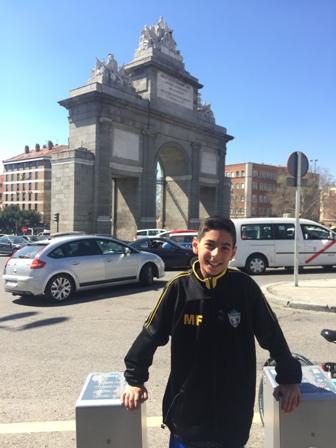 Matteo in Spain
Grandchildren of Leslie and Jaqueline Michael are taking over Hollywood! Look for them as school children in the upcoming movie, "Wonders", staring Julia Roberts and Own Wilson being released in November. They also filmed with Liam Neesom in his action thriller, Hard Powder and can be seen in the Netflix series, Zoo and Lost in Space.
________________________________________________________________________
Ian and Raywyn Celebrate their Shared Happiness
Thanks to our generous friends we celebrated our anniversary at Northview Golf and Country Club in Surrey BC on the Victoria long weekend. Imagine a year has gone by since the reunion celebration of friendship and life—and 24 years since Ian and I reunited and started our relationship—plus one special year, thanks to Ian's health—he is doing great—and mystifying the doctors of course.
The weather is fantastic this year so I thought you'd enjoy the scenery, snow capped mountains and spring blossoms. We saw two families of Canada Geese with 5 and 3 goslings, and two rabbits interweaving with them while eagles flew above, and golfers treaded carefully around the water's edge.
We had a delicious steak dinner after spring roll appetizers, but the place was full so service was slow. Thanks to the lovely scenery, people watching with my Lindeman Chardonnay from Australia and Ian's Scotch we managed to enjoy the evening. Thanks to all for making memories in our lives also.
Kia Ora and Blessings
Raywyn and Ian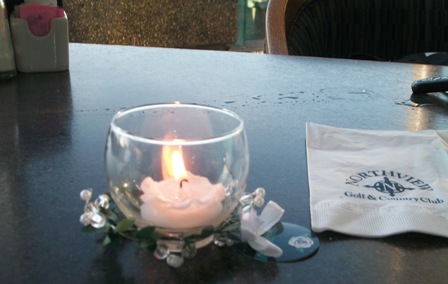 | | |
| --- | --- |
___________________________________________________________________________________

Trevor and Vivek celebrated their Birthdays in May -
| | |
| --- | --- |
| Diago, Amy and Trevor cut the Birthday cake | Trevor with Diago, Amy, Gemma and Gwen |
Trevor celebrates his May 26th Birthday at the Seniors' Social in Richmond
Spring arrives in Surrey, British Columbia
| | | |
| --- | --- | --- |
| | One of the garden paths in my residential complex "Chelsea Gardens" in Surrey, British Columbia | |
Beautiful Bear Creek Park, Surrey, B.C.
Susan Lynne Deefholts' Memorial at Bear Creek Park
(fondly remembering her birthday on May 27th
when she would have been 44 years old)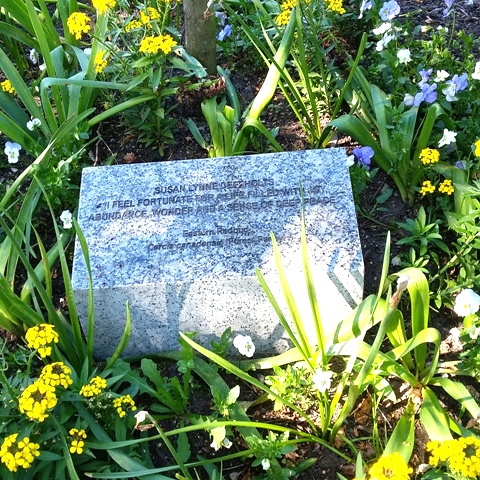 "I feel fortunate for a life filled with joy, abundance, wonder and a sense of deep peace."