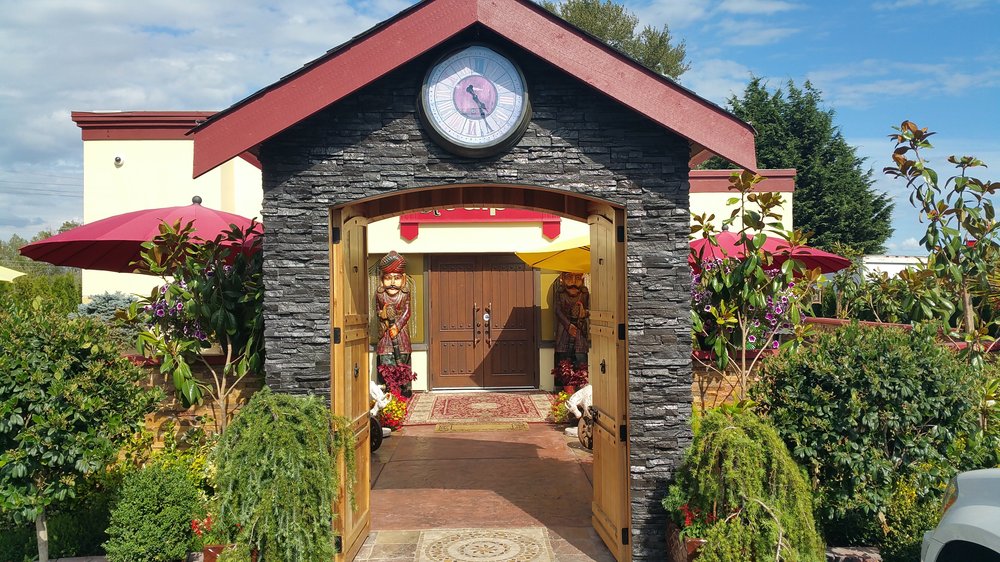 The Jaipur Restaurant is easily missed as its a stand-alone quaint cottage-like building, set back from the road and with a small parking lot in front. A door-man dressed in Rajasthani garb adds an exotic touch as he welcomes visitors, and the restaurant itself, although small, has a cutesy charm.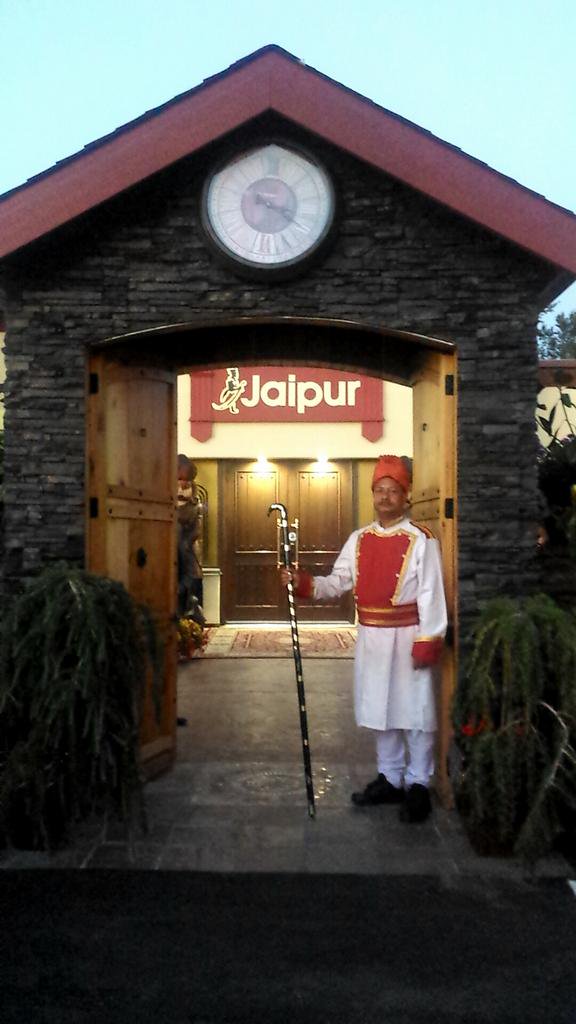 We were a small group but we enjoyed a very pleasant afternoon. Keith Vint had high praise for the International A.I. Reunion held earlier this year in Sydney, Australia, and at the next table, I could see Rosemary, Trevor and their daughter Carolyn (Wright) chatting animatedly to Pam and Dave Roberts. Rita (Watts), Gwen (Vint), Vivek (Savkur) and Jacquie (Michael) and I were at an adjoining table, and since it has been quite a while since we'd last met up, we had plenty of catching up to do.
| | | |
| --- | --- | --- |
| Keith's on the left, and far, far down at the next table are Rosemary, Pam,and Margaret | Dave, Trevor, Carolyn, Vivek, Rita and Gwen all patiently awaiting lunch! | Rosemary and Pam; across the table, Dave and Trevor |
| Carolyn (looking a bit apprehensive!) Vivek, Rita and Gwen further along the table | Lady in Red,Rita matches the table decor!. | Dave, Trevor and Carolyn |
Before we knew it, our orders arrived. The food was spicy, but not too chilli-hot, and we tucked into generous servings of biryani, prawns in a delicious coconut gravy, goat masala and chicken kebabs. All accompanied by papads, pullao and and soft, puffy nan-rotis. I'm rueful now at not taking pictures of this scrumptious display, but I reckon I was too busy tucking in!
| | |
| --- | --- |
| The Jaipur's turbanned doorman obligingly poses with our group | Jacquie switches places with Carolyn who is now doing the honours as photographer |
We did, however, get our camera's clicking for a group picture and the Rajasthani stalwart at the door, very obligingly also posed for us. As it happened there was a flea-market in full swing in the adjoining lot, so some of us dropped by to browse through the stalls. Carolyn cased this out earlier, and had bought a colourful blouse which she obligingly modelled for us!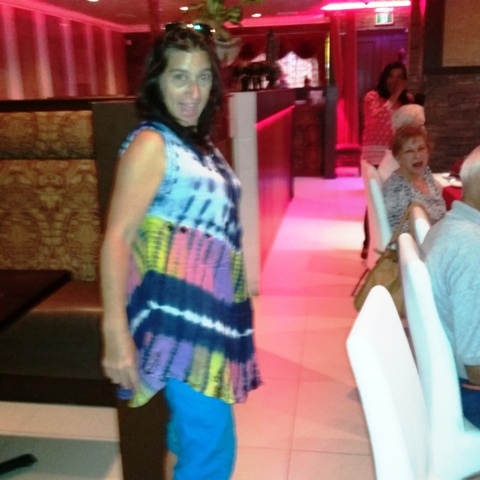 * * * * * *
I won't be adding much to our website over the next few weeks, as I'll be away traveling in Ireland and Britain, but this might be a good time to give you a heads up about our annual Anglo-Indian International Day picnic which will be on August 6th this year. Freda D'Souza has, on behalf of our Club, very kindly booked a roomy covered shed (not cheap to rent, unfortunately!) at the same spot we were in last year and the year before i.e. Queensborough Community Centre. So, rain or shine we'll be a-okay! August is usually warm and sunny, so if you bring your grandkids along, they'll have fun romping in the splash pool and play area which isn't too far away.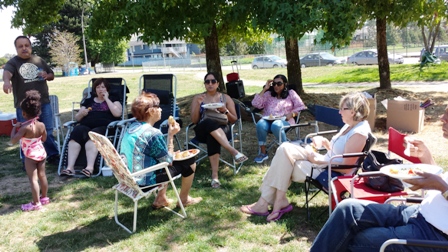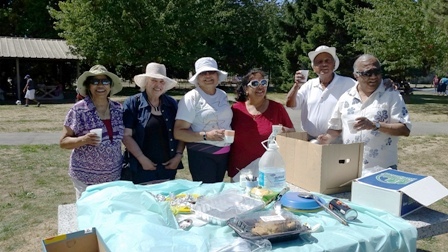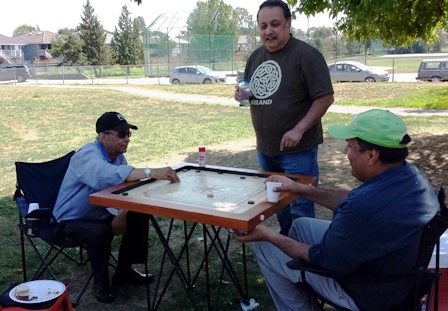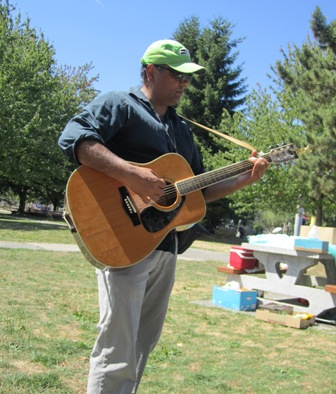 I'll send around a reminder notice closer to the time, but do mark your calendars now, so you won't forget the date!
And speaking of dates - check out our members' calendar of Birthdays and Anniversaries over the next two months, and give them a buzz to wish them on their special day.