OUR LUNCHEON GET TOGETHER AT THE "HOUSE OF DOSAS"
Monday April 7th 2013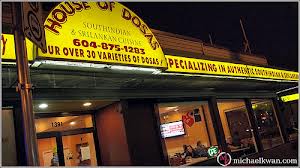 What a treat! We had about 25 folks, members and non members alike, come by the House of Dosas on Kingsway in Vancouver, to tuck into a scrumptious meal of South Indian dosas. These are priced at $5.99 every Monday, and there is usually a long line up of eager customers waiting their turn to enjoy one of the more than 32 variations of this South Indian speciality. The owner of the restaurant, Marjorie, thanks to a personal request from our Club member Jenny Sequeira (who is a close friend of the family), reserved a few tables specially for our group.

The mouth watering smell of spices, and the hum of animated conversation pervaded the modest-sized restaurant, as the busy waiters threaded their way between tables bearing trays of enormous 14" 'paper' dosas as well as smaller, but no less appetizing traditional masala dosas stuffed with onions and potatoes. Some of us tried dosas filled with prawn vindaloo or mixed seafood; others ordered dosas stuffed with lightly spiced aubergines or mixed vegetables. Non-vegetarians had the choice of spicy chicken or lamb in their crisp golden brown crepes.

So intent was I on tackling the dosa set before me, that I didn't think to whip out my camera and get shots of all of us before we started eating. However, as the pictures below will testify, we certainly did justice to the meal - there's hardly a morsel left on the faux banana leaf lined trays in front of us!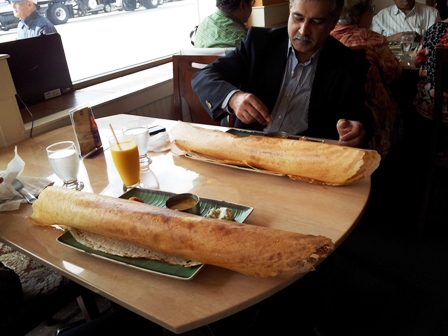 Paper dosas served to customers at an adjoining table.
L-R:

Alison Nazareth, her dad Vivek Savkur, Rhyllis McCarthy, Rick Rozario and Eric Liu with Phyllis standing at the back

L-R Lyce Rozario (listening intently!), Pat Savkur and her son in law, Doug Nazareth

Pat Savkur smiles for the camera, Doug looks thoughtful!

L-R: "Loverly ladies"...Thelma D'Souza, Gwen D'Souza and Corinne McCarthy
Clean "banana-leaf" platters!
L-R: Rowland McCarthy, Lyce Rozario, Pat Savkur and Doug Nazareth.

In the background, Ivana & Leslie Michael chat to Jennie Sequeira; foreground Corinne McCarthy