Our Hollywood-Bollywood Party - A Smash Hit!
As those of you who attended our splashy Hollywood-Bollywood Show will agree, the evening was a rollicking success. Tables filled up quickly with ladies in salvar-kameez outfits and gorgeous saris, all glitter and glam, while their consorts wore dressy kurta-pyjama outfits! Our MCs, "Vasanti" and "Pandu" (otherwise known as Crystal Menezes and Doug Nazareth!) got the evening rocking as Leslie, Noella and Doris of The Big Beats ramped up the music - drawing everyone irresistibly onto the dance floor.
The Big Beats - Noella, Doris and Leslie
There were games and prizes galore for adults and kids, and the costume parade drew admiring whistles from the audience. Among our Indian notables was a dabba-wallah (white cap and all!) a Bollywood "villain", complete with twirly moustaches and an appropriate leer, a Miss India contest winner, a couple of diminuitive Indian VIPs - the guys wearing stunning brocaded Nehru jackets and a cute little miss in a swirly Rajasthani style skirt and sequinned bodice.
Holding up the Hollywood side of things was an elegant Holly Golighty (Breakfast at Tiffanys) and a plump Cleopatra complete with vampy mascara-ed eyes. And the show-stopper: a larger than life Groucho Marx complete with hat and cigar, and with his glamorous wife on his arm!
| Cleo | Holly Golighty | Bollywood "badmash" |
| --- | --- | --- |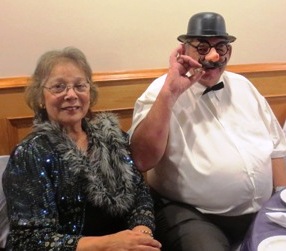 Groucho with his glam wife
The Richview Hall on River Road in Richmond was an ideal venue: the room was spacious and TV screens set the mood for the evening as slides of Hollywood mega stars - glitterati of yesteryear as well as contemporary hearthrobs - ran continuously, interspersed with sequences of Bollywood dance extravaganzas (grateful thanks to Ashley Orton for his help with this). Mock large champagne glasses filled with glowing green, royal blue, amber liquids were attractive centrepieces at each table, and on arrival guests were served appies of chicken tikka, miniature kebab "wheels" and pakoras. There was no bar, so people brought their own wine or spirits, but pop mixes were available throughout the evening. The catered buffet included several tempting vegetarian dishes as well as yummy butter chicken, kebabs, salads, raita and fresh soft rotis. Generously heaped fruit platters and a wickedly delicious pineapple cake brought the meal to a close, with tea and coffee being on tap all evening.
The Big Beats were an enormous hit - their music ranged from Bollywood songs to Latin rhythms, from nostalgic hits of the 50s, 60s and 70s to folk music from Goa. The floor was packed; not only the adults rocked to the music, but so too did the kids. See them go...click here! (You'll need Acrobat Flash Player 8 to view this.)
The star of the evening was our Indian dancer, Karima, who not only performed a Bollywood groovy dance, but went on to teach everyone the tricks and techniques of showtime dancing - Indian movie style. Her enthusiastic pupils thronged the floor, eagerly lapping it all up - take a look! (This 16 minute clip takes a while to open up but be patient! Make yourself a cuppa coffee or tea in the meantime, and be prepared for a giggle.)
The overwhelming success of our bash was thanks to our terrific duo: Vasanti memsahib and Pandu sahib, who kept things grooving all through the evening. Thank you both ever so much! And, last but very far from least, thank you all for coming - without your lively participation, the show would have been as flat as a stale chapati!