REMEMBERING DEREK WILLIAM BEAVAN
December 12, 1933 - August 25, 2013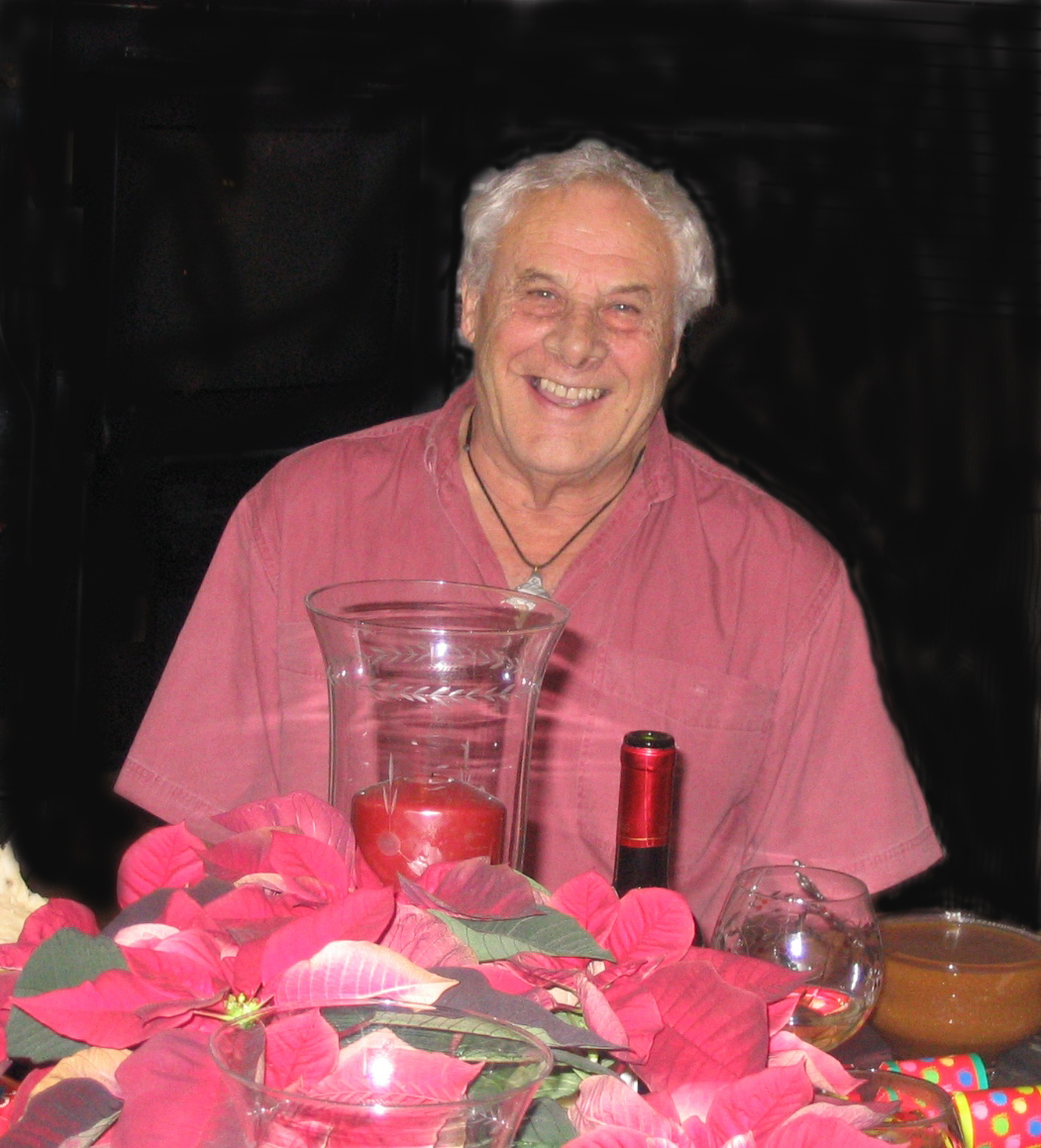 "Our days on this earth are short, but there
is no limit to the love that makes each of
those days a beautiful memory."
It was with sadness in our hearts that we gathered together to bid farewell to Derek on September 5th at St. Cuthbert's Anglican Church in Delta. The date was particularly poignant for his wife, Phyllis as it was not only her Birthday, but it would have also been their 32nd Wedding Anniversary.
Derek would have been amazed at the number of friends —about 135 people in all—who filled the church to pay their respects to his memory and to offer their deeply felt sympathies to Phyllis, to Derek's grieving daughter Kim, her husband Shawn and grandchildren Trevor and Riechelle, Trevor's wife Jacquelyn and Derek's cherished great-granddaughters, 3-year old Eilidh and baby London.
Pastor Philip Bryant led the service, assisted by St. Cuthbert's Reverend Allan Carson. As a prelude to the service a slide show of pictures spanning Derek's life played to the background of Puccini's O Mio Babbino Caro, a melody that he dearly loved.
The service opened with a recording of The Lord's Prayer sung by the Mormon Tabernacle Choir and after a brief welcome speech, the congregation joined in singing Abide With Me. Gerry Mackie, a close and dear friend, delivered a eulogy and this was followed by homages by several speakers, including Derek's nephew Glenn Deefholts, and his neice Susan Deefholts from Ontario via a video clip . A selection of e-mails from across the world was read out by Phyllis's sister, Margaret Deefholts.
Pastor Philip delivered a compassionate sermon and his wife, Beth Bryant who has a sweet, true voice touched everyone's heart as she sang the 23rd Psalm The Lord is My Shepherd. After Phyllis, flanked by Trevor and Glenn, offered her thoughts on her "soul mate" in an emotional summing up, the congregation joined in singing I'll Be Seeing You closing the service on a note of hope.
Friends lined up to hug and comfort the family before moving on to the church annexe for light refreshments.
Phyllis compiled the following "snapshot" of Derek's life: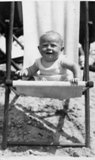 Derek entered our world on Dec 12th 1933 in Upney Essex in the middle of the Great Depression. He spent his younger years in Elephant & Castle, London along with his elder sister Pamela (who has recently predeceased him). When the 2nd World War started in 1939 the family had moved to Tulse Hill Estates, Brixton, London where his father worked as a Transport Driver. Once the Blitz
began in 1940, his mother & sister were evacuated to Tiverton, Devon and were hosted at Exley House, the estate of Lord & Lady Hood. This was the highlight of his childhood and his first experience of enjoying the beautiful English countryside and nature at its finest. After 2 years, they returned to London but were evacuated once again in 1943 to avoid the Flying Bombs (V1's) and stayed in various rental homes shared by other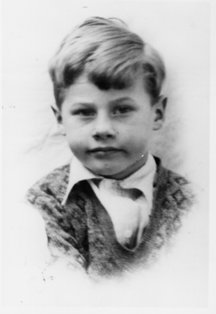 families. A year later they returned to London which was still being bombarded by flying bombs and rockets and many a night was spent in a bomb shelter which Derek, at age 11 found quite exciting, but terrified his mother & sister. In 1945, he started at Bec Grammar School – coincidently now called Bevan College!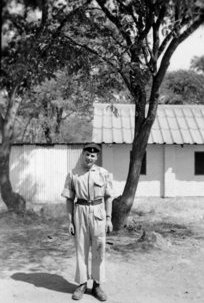 He was called up into the Army in 1952 for his National Service. After 6 weeks of basic training he was posted to Northern Rhodesia (now Zambia) to recruit Africans into the Rhodesian Army. He drove and maintained the army trucks. This was another highlight for Derek, because he lived in the African Bush for weeks on end, most nights sleeping in his truck. He traveled through and experienced much of unspoiled Africa before it became a "tourist" haven. Once his 2 year service was completed, he returned to London and worked as a Sales Rep selling Art Supplies and traveled throughout England, Scotland & Wales.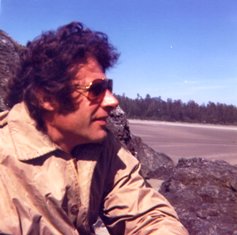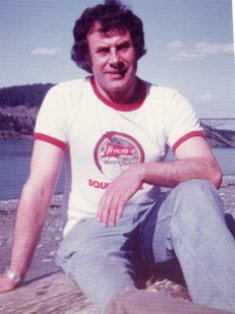 In 1956 he immigrated to Canada once again working in the art supplies business with the whole of Eastern Canada as his territory. He joined the Canadian Youth Hostel where he met his first wife Sandy and they were married in 1959. In 1962, he joined Sunkist Growers of California as a Field Rep in their Canadian Head Office in Toronto.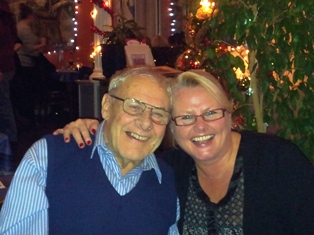 Their daughter Kimberly Elise was born in August of 1963 and she was joined by Jonathan in 1966. When Jon was a month old, Sunkist transferred Derek to Vancouver which he felt was the best move ever!! They bought a house in Delta on 112 th & 92A, which remains as the "family home" having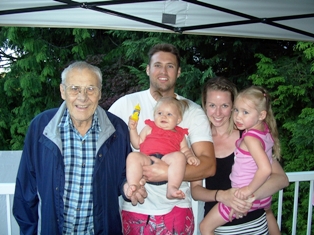 seen 2 generations and now the third generation Eilidh(3) & London(10 months), who enjoy visiting the home where their grandparents and parents were raised.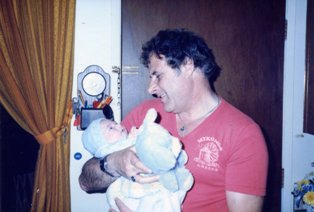 In 1967, Derek helped form the North Delta Lions Club as a charter Member and eventually President. His job at Sunkist involved traveling throughout BC and Alberta and on occasion to California. In 1975 he joined Reckitt & Coleman and continued to serve the Food Industry as a Sales Rep.


In 1978, he and Sandy separated and he moved to New Westminster. He and Phyllis got together and moved into a rental home in New Westminster. They were joined by Kim who was then 15 years old. They married on Sept 5 th 1981. Phyllis was a Travel Consultant at BCAA and this allowed plenty of opportunities to see the world. Every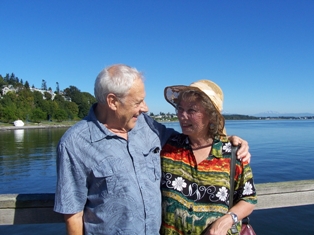 continent was visited on various trips and cruises, but the really special destination was Australia where they both felt a familiarity and deep love. They had 15 visits over 28 years, mostly during our winter (their summer) and spent many treasured times with Phyllis' extended family.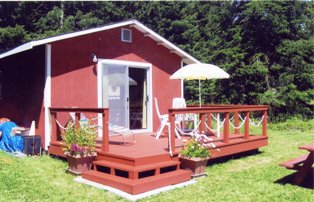 In 1981 they bought 2½ acres on Guemes Island, (near Anacortes) Washington and Derek, with the help of a neighbor, built a cabin which was a little piece of paradise and offered a peaceful break from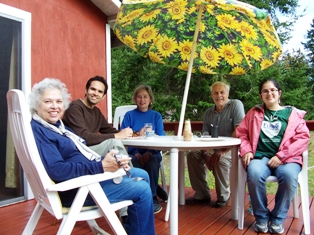 stressful jobs. Over the next 32 years, and numerous get togethers with family & friends, the cabin became one of the most cherished aspects of their lives.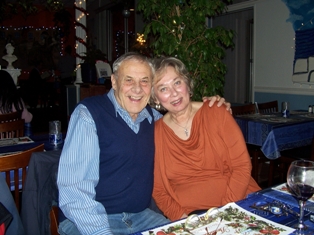 His career took many twists and turns between 1978 and 1986 with a variety of jobs but eventually he was employed as General Manager of Sales & Manufacturing in a Plastics Injection Molding company. He worked there until the business was closed down and premises sold in 2006 – and at the age of 73 was finally fully retired.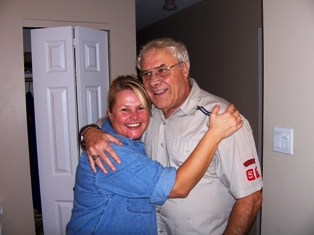 He and Phyllis continued their travel adventures and one of the recent highlights was South America where they visited Chile, Argentina & Brazil and the Amazon. His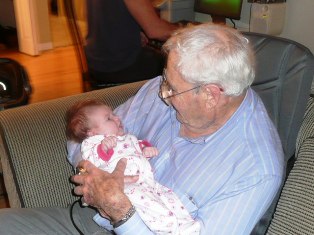 health declined in 2011 and traveling became impossible. They did however still enjoy the cabin and local trips. The family gatherings towards the end of Derek's life were precious and treasured – Kim & Shawn have been instrumental planning very happy family times frequently. We felt blessed having a family that was so close, caring and loving….and for Derek that meant everything.

Rest gently Derek— until we meet again...
- Phyllis
________________________
MESSAGE FROM KIM

As well as many other roles Dad played, to us he was a wonderful, beautiful, amazing father, grandfather and great grandfather and excelled in each of these very important roles. He made all of us feel so special and so loved all of the time which makes saying goodbye so much harder.
As a card we received said, all that could be done was done and this is true. From wonderful doctors, nurses, specialists, Phyllis, myself and our families we all fought very hard over the years for Dad's health. Nobody fought harder then Dad though. He did it for us. We want to thank him for every moment he fought for. He fought with amazing strength, dignity and determination to the very end.
We have shared so many wonderful times together with Dad, Phyllis and the rest of our family and friends. We find consolation and gratitude in all of our precious memories of laughter and love throughout all of our lives.
Our only hope now is that Dad is in a place with love, peace, laughter, family, friends, fun and feasts. We haven't figured out yet how to carry on without you Dad but we will find a way.....one day.
All our love, Kim, Shawn, Trevor, Riechelle, Jacquelyn, Eilidh & London. xoxo
Dad : Even though we have always lived so many miles away, we have always sent thoughts for good health for you. We are so sad to have to say goodbye, there is never enough time. We love you. Jon, Donna, Bre-Anna, Brandon, Larissa, Sandy and Frederick.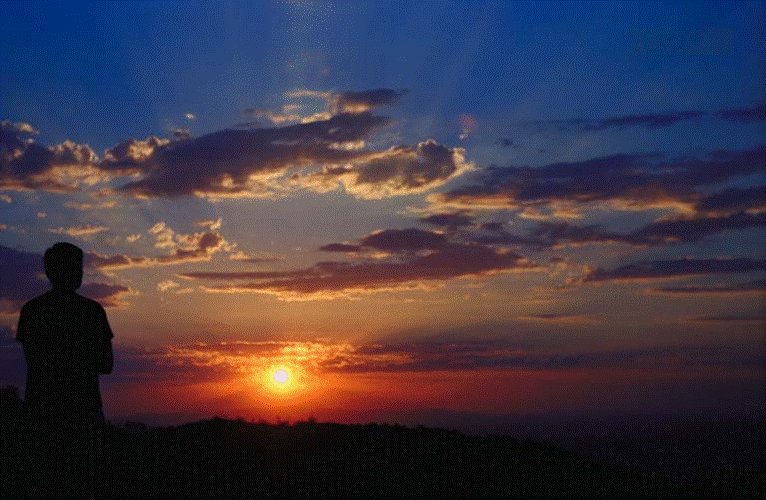 Native American Prayer
I give you this one thought to keep
I'm with you still —I do not sleep.
I am the thousand winds that blow,
I am the diamond glints on snow,
I am the sunlight on ripened grain,
I am the gentle autumn rain.
When you awaken in the morning's hush,
I am the swift, uplifting rush
Of quiet birds in circled flight
I am the soft stars that shine at night.
Do not think of me as gone—
I am with you still —in each new dawn.
No tribute to Derek would be complete without portraying his keen sense of fun that was front-centre at Christmas, Halloween and at the Anglo Indian Recreational Club shows...