OUR CHRISTMAS CAROL SING-ALONG TEA PARTY


December 19th 2015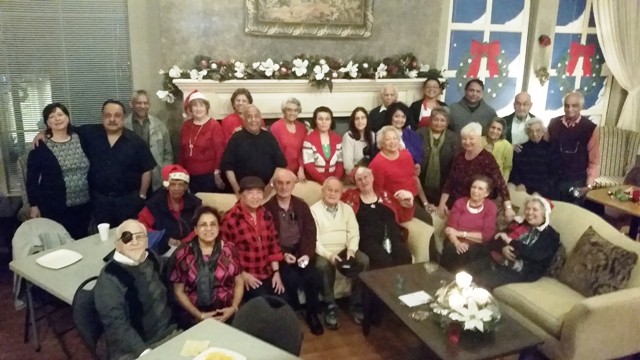 (Psst...can you spot the major difference between these two group shots?)
An enjoyable time was had by all, as we gathered to usher in the Christmas Season with old friends and new, at the Chelsea Gardens festively decorated Fireside Room. There was plenty of lively chatter, a wonderful spread of Christmas goodies on the tea table, thanks to all who contributed their festive cookies and other delicacies. The afternoon took off with Ian's wizardry at the keyboard, and with Joy leading the singing, we all warbled our way through several well loved carols. There were some hilarious moments as everyone tried to work their way through the Canuck's version of The Twelve Days of Christmas, and much cudgelling of brains as guests tried to come up with solutions to our Christmas quiz. Ashley won - both in speed and in accuracy! Thanks to Eric for several of the pictures seen below - his 'trigger-finger' was nimbler than mine as he captured the spirit of the afternoon via his lens.
Here's wishing you all a very Happy Christmas! Peace and good health in the New Year!
Brian, Peter, Clara and Freda

"

Mac", Corinne, Gilli, Barbara and Rhyllis

The dessert table

Ian, Joy, Raywyn and Ashley

Yum!
| | | |
| --- | --- | --- |
| Trevor | Margaret | Joe (fuelling up!) |
Peter and Clara

Raywyn and Ian

Jacquie and Eric

Eric with Trevor

David and Pam

Lorelei and Leonie

Jacquie with Don and Gemma

"Eeeek...not that camera man again!"
Gilli and Barb

"Mac" and Corinne, with Les Jr. and wifey Eunice in the background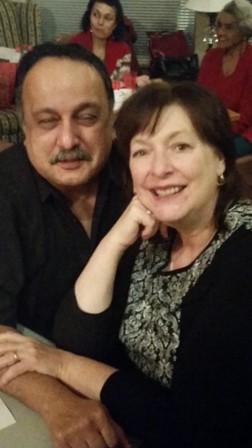 Ashley swooning over Marie!
Fa-la-la...

Peter takes the mic...

Joy leads the singing

Raywyn with Lorelei

Ian accompanies Lorelei

Rowland, Corinne, Gillie and Barb

enjoy each other's company
| | | |
| --- | --- | --- |
| Guys and Gals: Trevor, David, Pam, Caroline and Rosemary | Rhyl and Eunice | Pam, Caroline and Rosemary |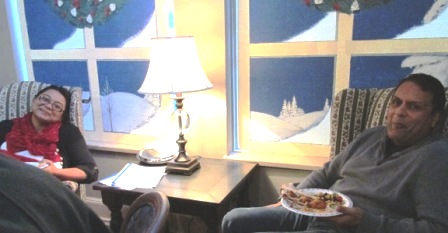 Eunice and Les Jr. take it easy!