We were delighted to host our Club's Christmas Carol sing-along afternoon tea party which has now become something of an annual tradition. Although we were crestfallen that some guests had to cancel at the last minute for various reasons, we were still 30-plus strong—which made for a cosy get together as we mingled, chatted and sang in the festively decorated Fireside Room at Chelsea Gardens in Newton, Surrey.
Ian and Joy: "I'm Dreaming of a White Christmas.."


Photos: Jacquie & Margaret
As always, Ian (Currie) worked his magic on the keyboard and, along with Joy on the mic, they had everyone warbling their favourite Yuletide carols.
Patty, Betty, Fatma, Glenn, Carol, Orma:
"It's beginning to look a lot like Christmas.."

Photo: Margaret

Keith and Sylvia: "Silver Bells...It's Christmas time in the city..."

Photo: Margaret

Shona, Maxine, Ursula, Vivek, Elsa,
"Santa Claus is Comin' to Town"


Photo: Margaret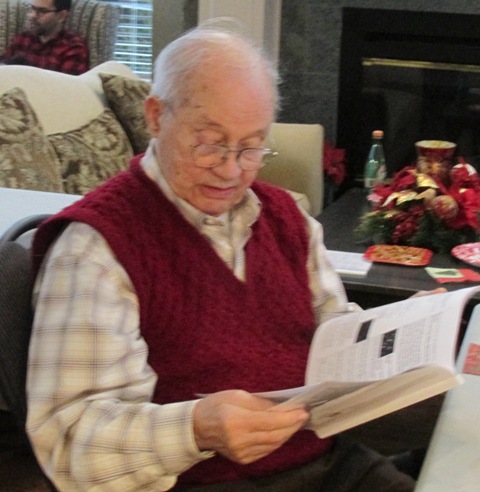 Trevor: "Oh Tannenbaum.."


Photo: Margaret
This year we had a very special treat when Caroline Wright's friend, Bill Abbott, joined us to play jazz improvisations on his sax (accompanied by Ian) to much appreciative applause from the floor.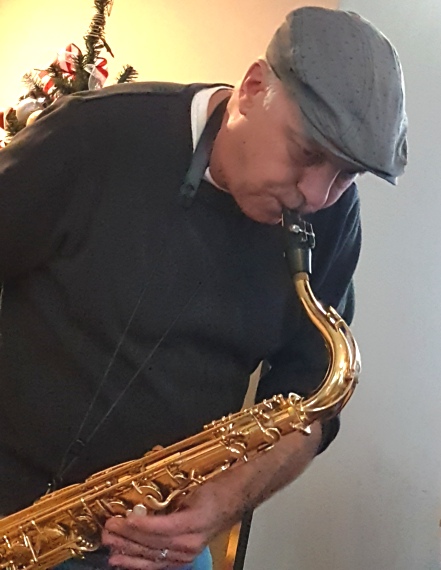 Sax Man, Bill


Photo: Jacquie
Watch Bill and Ian play "I Saw Mommy Kissing Santa Claus"
Thanks to the potluck contributions by our guests, the tea table groaned under an enormous spread of Christmas goodies: cakes, chocolate confections, pastries, jam and lemon tarts, sandwiches (including Freda D'Souza's specialty—her dainty green chutney sandwiches), and a variety of cookies. Not forgetting, of course, those well loved Indian delights: pakoras, bhajias and gulab jamun sweets. Vivek Savkur's daughter Cherie was unable to attend, but her dad shared her butter-chicken masala filled samosas with us. Sensational!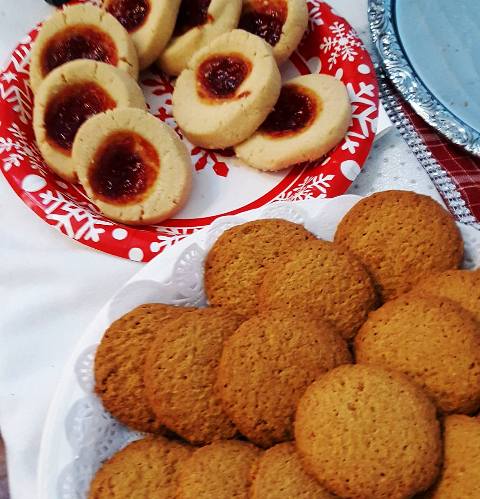 Photo: Ursula Maxwell-Lewis
We had a number of door prizes that we gave away during the course of the afternoon, and a Christmas trivia quiz that had folks scribbling away earnestly. Margaret shared a couple of anecdotal stories with a Christmas theme, and as is customary, we did the Twelve Days of Christmas with various folks taking on the roles of pipers, maidens milking, drummers drumming, partridges and so on, before the party wound to a close with a lusty rendering of "We Wish You a Merry Christmas"!
Raywyn, Jacquie, Betty:
"...And a Partridge in a Pear Tree

"

Photo: Ursula

Ian, Margaret "Jingle Bells..."


Photo: Ursula

Bill, Ian, Joy and Margaret: red caps, keyboard and sax


Photo: Ursula
But...all was not yet over! Even as some folks were heading out the door with their biscotti-filled take home mementos (thank you Jacquie), several friends who were still in a party mood took to the floor, while Ian belted out some good 'ol dance numbers. But, of course, all good things eventually have to come to an end, and with winter's early dusk closing in we wound down by 5-ish.
Before signing off here I'd like to once again thank Ian, Raywyn, Joy, Ashley, Marie and Jacquie for all that they did to make the afternoon a success, and also Glenn who helped us clear away after the party was over.
Here are some photos taken by Jacquie (Michael) and Ursula (Maxwell-Lewis). Many thanks to you both.
Ian & Joy take a break with Raywyn


Photo: Jacquie

In the festively decorated foyer of Chelsea Gardens: Trevor, Caroline, Margaret, Ian


Photo: Jacquie

Bill and Ian jamming


Photo: Jacquie
Lovely ladies: Fatma, and the two Bettys


Photo: Jacquie




Who's for a cuppa? Raywyn, Brian, Nell


Photo: Jacquie

Hi there! Freda, Shona, Elsa


Photo: Jacquie
Vivek loves Cherie's samosas! And so did we all


Photo: Jacquie

Elegant Lesley


Photo: Jacquie

Glenn: "Yum!"


Photo: Jacquie



Betty M and Patty pose for Jacquie's camera


Photo: Jacquie

Maxine and Ursula do so too...


Photo: Jacquie

Carol with her sister Orma


Photo: Jacquie



Ashley packs a punch?


Photo: Jacquie




Cosy round the fireplace: Ashley Glenn(background) Bill, Betty M(walking past) Rosemary and Caroline

Photo: Jacquie

Shona listening intently...


Photo: Jacquie
Selfie by Ursula...with Margaret and Maxine

Glenn and "shorty" mum


Photo: Ursula

Freda, Brian and Lesley smile for the camera.


Photo: Ursula
Brian, Freda, Shona and Vivek


Photo: Ursula

Two ol' gal-pals: Maxine and Margaret


Photo: Ursula

Rosemary and Eric


Photo: Jacquie