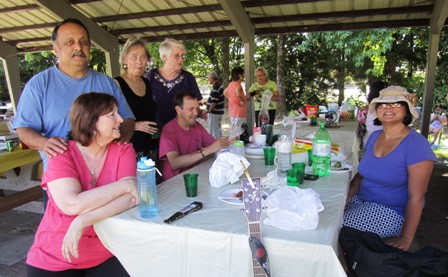 We had a great turnout - around 50 or more folks at our Anglo-Indian International Day Picnic this year.
Thanks to Freda and Brian D'Souza who took up 'residence' from about 9.30 am in one of the large covered 'sheds' on the picnic grounds of the Queensborough Community Centre, we had plenty of room to spread out and make ourselves comfortable.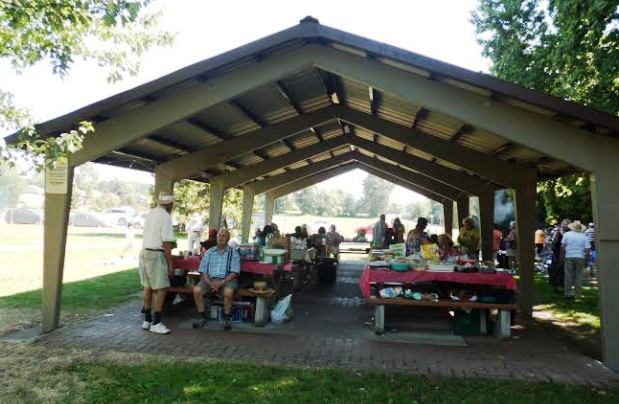 There's nothing like a potluck spread for variety and the tables groaned under the weight of nibbles and munchies, plus a selection of scrumptious sandwiches, tandoori chicken, vegetable puffs, fruit platters, kebabs, cool salads, cakes, pastries - and several kinds of ever-popular samosas!
Carrom players tried their skill at getting the 'coys' into corner pockets of the board; others teamed up for go at bocci ball, and badminton.
Some merely relaxed in the shade on this sunny, hot afternoon.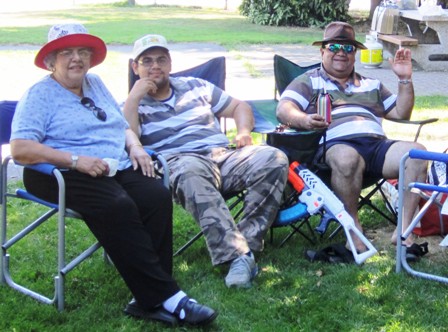 Mid afternoon, everyone had their eyes glued to their "housie" cards and thanks to Gwen, an expert caller, and Gemma who kept track of numbers called, there were triumphant shouts of "bingo" from the winners of a "jaldi" five, two lines and full house! Special mention must be made of Gwen's young helper, Jarod Vint, who spun the numbers 'cage' with gusto as he handed each number cube to her.
We didn't have as many kids as we'd have liked, but the three Vint boys, Jaydon, Julian and Jarod and Vivek's little grandson, Christopher joined in a few relay games, when they weren't splashing in the nearby playground's water fountains or getting their faces painted. Chantelle, Lyn and Damien D'Souza's grand-daughter however, preferred to hang out with the grown ups!
Brian's chai - brewed on his portable stove - was a very welcome thirst quencher as we sat or strolled around chatting and catching up with news and views.
As the evening shadows began to grow longer, Barry and Leslie strummed their guitars and voices were raised in a good old sing-along session.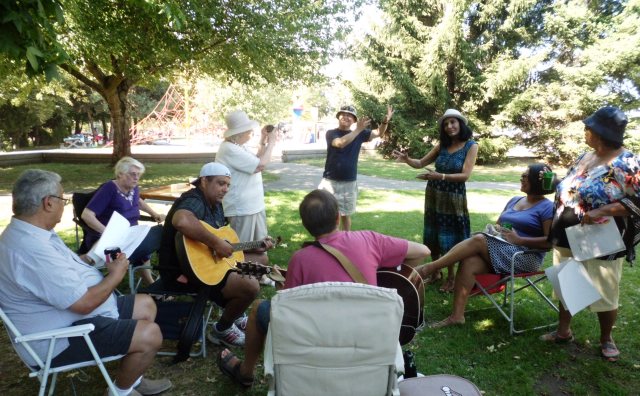 Watch the ladies (and one gent too!) do the hula to Barry's rendition of "Lovely Hula Hands". Click here

Thank you one and all for coming by and making our picnic such a success.