NEWRIES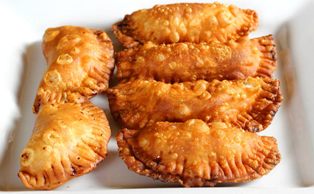 Ingredients:
For the Pastry:
* 1/2 kilo flour
* 4 ounces margarine.
* Milk or water to knead the above into dough.
For the Filling:

* 250 grams semolina
* 100 grams sugar
* 50 grams raisins
* 50 grams cashewnuts (chopped)
* 3 tablespoons poppy seed
* 3 cardamoms (crushed)
Method:
Heat 3 tablespoons melted butter and gently fry the nuts and raisins. Drain and keep aside. In the same fat, fry the semolina till it starts turning light brown. Remove from heat and add sugar, nuts, raisins, poppy seed and cardamom. Mix well.
Pastry:
Rub fat into the flour and add sufficient milk/water to make a stiff dough. Knead well and allow to stand for 1-2 hours.
Take a ball of dough and roll into a small flat disc. Please some of the semolina filling in the centre of the disc and fold the pastry in half, sealing the edges with water. Scallop edges by pressing with a fork in order to seal well.
When all the newries have been shaped, deep fry over medium heat until the newries are light brown and crisp.
Drain and allow to cool before storing in an airtight container



DOL DOL
(Contributed by Brenda Oliver on behalf of Willy D'Cruz)
This is a well-loved Anglo-Indian recipe which, as Brenda says, is highly recommended for those who wish to put on weight!
Microwave Method
Ingredients:
1 cup black rice flour ("puttu" rice)
1 cup sugar
1/2 cup water
1 - 13.5 oz. (400 ml) canned coconut milk
1 1/2 tbls. butter
1/2 teas. pure almond essence
Pinch of salt
Handful of sliced almonds
Method:
Mix black rice flour, sugar, salt, almond essence, and coconut milk.
Microwave on medium/high for 9 minutes
Remove and add butter; stir well
Return to microwave on medium/high for 10 minutes
Remove and spread on lightly buttered plates (makes 2 1/2 dinner plates) Sprinkle almonds and let the dol-dol cool before cutting it into squares.

SENSATIONAL ICE BOX CHEESE PENNIES
Recipe courtesy Brenda Oliver
Ingredients:
l pkt. of Maclaren Imperial cheese
l cup Margarine |2 cups flour
Method:
Soften cheese and margarine and mix in flour; knead into dough.
Form into 2 rolls, refrigerate till firm, then slice.
(Alternatively, instead of forming into rolls and refrigerating, make very small balls out of the dough, and flatten these out)
Bake in 350 oven until light brown around edges (about 15 to 20 minutes)
Cool and then store in fridge.

MAPLE WALNUT FUDGE
Recipe: Brenda Oliver
Ingredients:
1 cup brown sugar
1 cup white sugar
1 cup 35% cream (whipping cream)
2 tablespoons butter
l teaspoon maple extract
1/2 cup chopped walnuts
Method:
In microwave-able bowl, blend brown sugar, white sugar, cream.
Grease inside top of bowl with butter (to avoid mixture from boiling over).
Cook mixture in microwave (at high) for ll minutes.
Remove and stir in maple extract and butter.
Beat with electric beater until mixture loses its lustre.
Stir in walnuts.
Pour into 9-inch-square pan.
Refrigerate.
Cut in squares.