CANADA'S "CONFEDERATION150" BIRTHDAY PARTY
OUR POTLUCK TEA CELEBRATION
JUNE 24TH 2017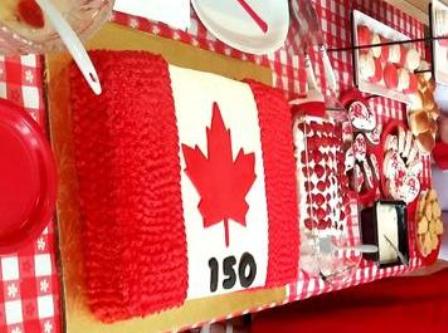 Our Anglo-Indian Recreational Club celebrated Canada's 150th Confederation Anniversary with a convivial social gathering at Chelsea Gardens in Surrey B.C.
To start off the Birthday party, we stood tall and proud as we sang O Canada and God Save the Queen. Then it was time to mix and mingle and enjoy the delectible variety of tidbits generously contributed by all our guests to the tea table.
In keeping with our theme, slides of Canadian landscapes and a selection of Canadian song clips by Canadian singers and musicians ran in the background throughout the afternoon. A compilation of wierd (and wonderful!) little known Canadian facts was set out on all the tables, and later in the afternoon, everyone took part in a little quiz to test their knowledge of Canadian facts and figures. Nobody made the total of 30 points, but Patti Stewart won the ladies' prize, while Dave Roberts garnered the gents' reward.
By then it was time to cut the gigantic Birthday cake and sing "Happy Birthday" to Canada, which everyone did with verve and gusto!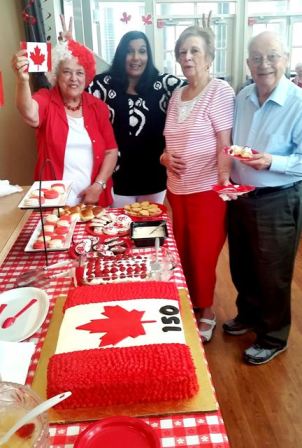 Happy Birthday Canada!
Before the party came to a reluctant close, everyone joined in a short sing-along session warbling the Canadian (original) version of "This Land is Your Land" and other popular ditties.

Grateful thanks to Jacquie (Michael) for bringing the very special Birthday cake; to Ashley (Orton) for looking after the slide show and the background video clips and music; and last but far from least, to talented photographer Eric (Liu) who did a great job in recording the event so comprehensively.
Lastly, to all our guests - thank you for coming. You made the show!
L-R: Back row Betty (Mackie), Fanch (Ledu), Gerry (Mackie)
Front: Betty (Tibbets), Monique (Ledu), Margaret (Deefholts_, Gwen (D'Souza)

L-R: Betty (Tibbets), Gerry (Mackie), Carol & Eric (Greenidge), Fanch (Ledu), Patti (Stewart)
| | |
| --- | --- |
| Nice headgear Jacquie (Michael) | Bewigged MC Margaret(Deefholts) |
| | |
| --- | --- |
| Gwen (D'Souza) with nieces Crystal and Bea | Vivek (Savkur) with Brian and Freda (D'Souza) |
| | |
| --- | --- |
| Carol and Eric (Greenidge) | Glenn (Deefholts) with Anne (Reyner) |
| | |
| --- | --- |
| Trevor (Wright) with Dave (Roberts) | Lynn & Damien (D'Souza) with Bea (Pereira) |
| | | |
| --- | --- | --- |
| Ashley (Nostrilitus) and Marie (Orton) with friends | Sisters: Jenny and Gwen | Pam (Roberts) with Caroline and Rosemary (Wright) |
| | |
| --- | --- |
| Eric (Liu) grabs a selfie with Ashley (Orton) | Smile for the Selfie Margaret! |